It's lovely to have you here.
Welcome to One simple detail, an independent shop focusing on minimal designs that enhances the modern interior style of your home.

Let me tell you how One simple detail came to be starting with my story. When I discovered my passion for interior styling, I never acted on it and always waited... waited until the set of bowls went on sale, waited for a landlord who would let me paint the walls, waited until I bought my own home. I ended up not getting those set of bowls btw! After too long, I realised that these excuses were holding me back – I should be acting on what I knew would add a little bit more happiness and fulfilment in my life. I started small at first: getting the small plant that only cost £1 from the market (it's still alive-ish), buying the cheap bowl from the charity shop. Slowly but surely, a home – my home – starting forming. It's still a work in progress (and probably always will be), but piece by piece, it's all coming together.
I created One simple detail to be a place where anyone and everyone can start collecting pieces of wall art for their homes. I want to inspire you to start now. If you're having the same doubts that I once had, please don't wait for the 'perfect' situation to come along. There will always be a reason to delay, but I promise that even the smallest step will soon add up and before you know it, you'll have a home you love to live in.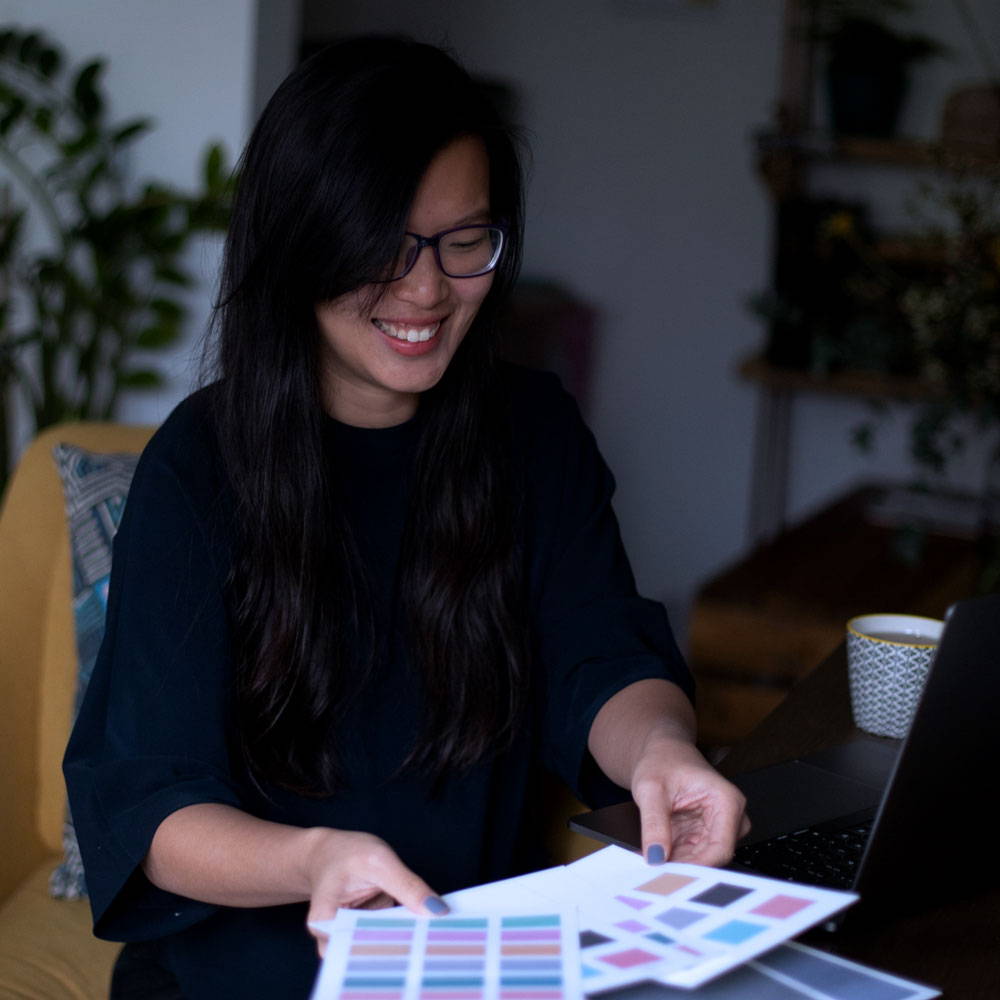 Why hello there! I'm Aiza, owner and designer of everything you see here at One simple detail. My background is in graphic design, which I've merge with my passion for interior styling. I have always been inspired by everything to do with home decor and my favourite room in my home is the kitchen – food makes me happy! I love to pop the kettle on in the morning, look out into the garden and gather my thoughts before getting started with my day. I hope that when you browse through this site, you'll find lots of inspiration for your own home.
People used to call me 'Aiza Black-thumb' because I just couldn't manage to keep a houseplant alive (not even a cactus!) Now, I'm proud to announce that most of my plants have been alive and healthy for a while!

Whenever I travel to somewhere new, I always pick up a little pebble as a souvenir. I display them in a glass jar in my living room. See if you can spot them in some of the lifestyle photos over on the blog.

I love everything to do with food. Eating mainly, but also cooking, baking and watching TV shows about food too! So it's no surprise that that I have a whole collection designed for your kitchens!

Get notified every time a new collection is released!
Be the first to know about new collections, exciting updates and fabulous offers.